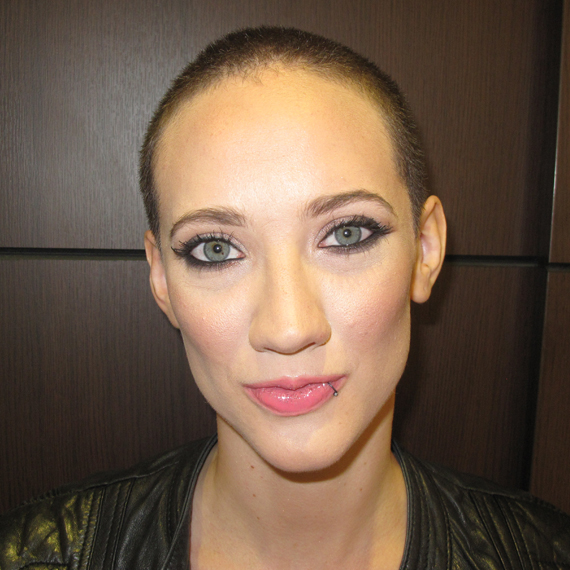 01 Oct

Barely there Hair- 365 days of hair 365 days of hair

Follow Jodie's journey from couture curls to closely cropped and back again…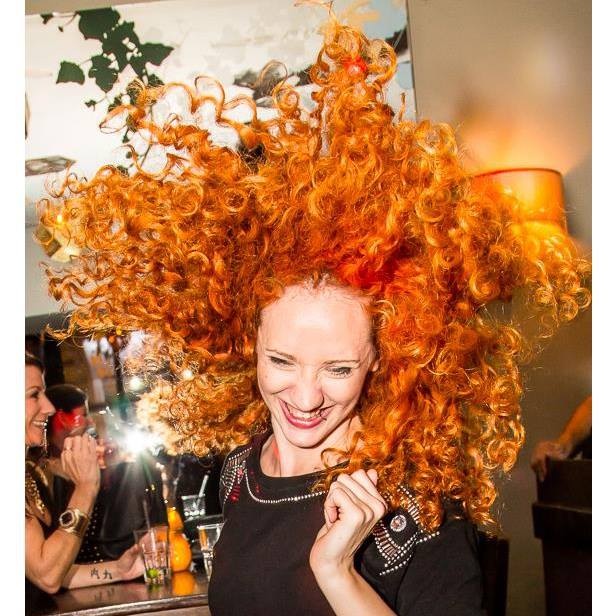 As any of you who have gone for a bit of a change with your hair will know, new hair needs new make up! Changing your hair style, whether it's a different length, adding a fringe or going for a completely different colour, can alter the way your face looks. Colour and styles that worked with your previous hair might not sit quite right with the new hair, which means you can have fun experimenting and creating a whole new make-up look to compliment the new 'do'.
Having gone from big bouncy copper ringlets to closely cropped with my natural colour, I knew I was in need of a big change….I needed expert help!  So Rachel from the New CID team came into the salon to show me exactly how to do my make-up, we talked about how it was important to put more emphasis on my eyes now that my hair was no longer the focal point, so she gave me lots of tips and tricks to make to most of my features, here's how we created my new look…
Always apply a primer – it makes your make-up last so much longer and helps with hydration and shine (that really shows in salon lights) I-Prime £28.50
Apply foundation with a brush or sponge from middle of face to the hairline, it allows you to build colour evenly without caking your face. I-Perfection £28.50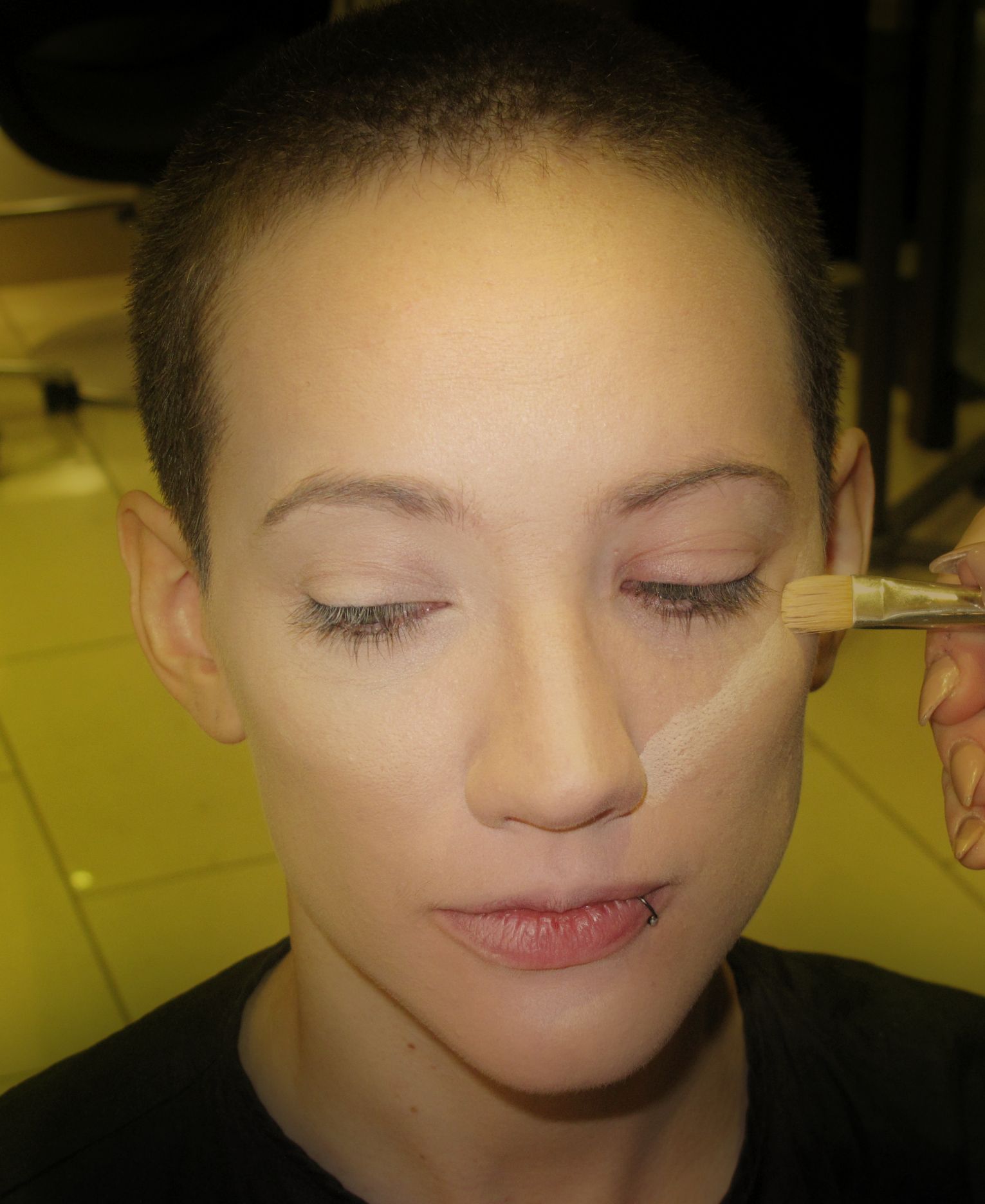 The eye area is normally darker and prone to redness so add a concealer a shade lighter than your natural skin colour.  Do this from the side of the nose upward along the cheek bone (in a triangular shape) it helps highlight the eye area and cheekbone opening up your face – I got so many comments on how fresh and awake I looked!  I-Conceal £19.50
Make sure you add a translucent powder as it will set your make up keeping it in place all day which is important for me running from shoots to salon and back again! I-Finish £21.50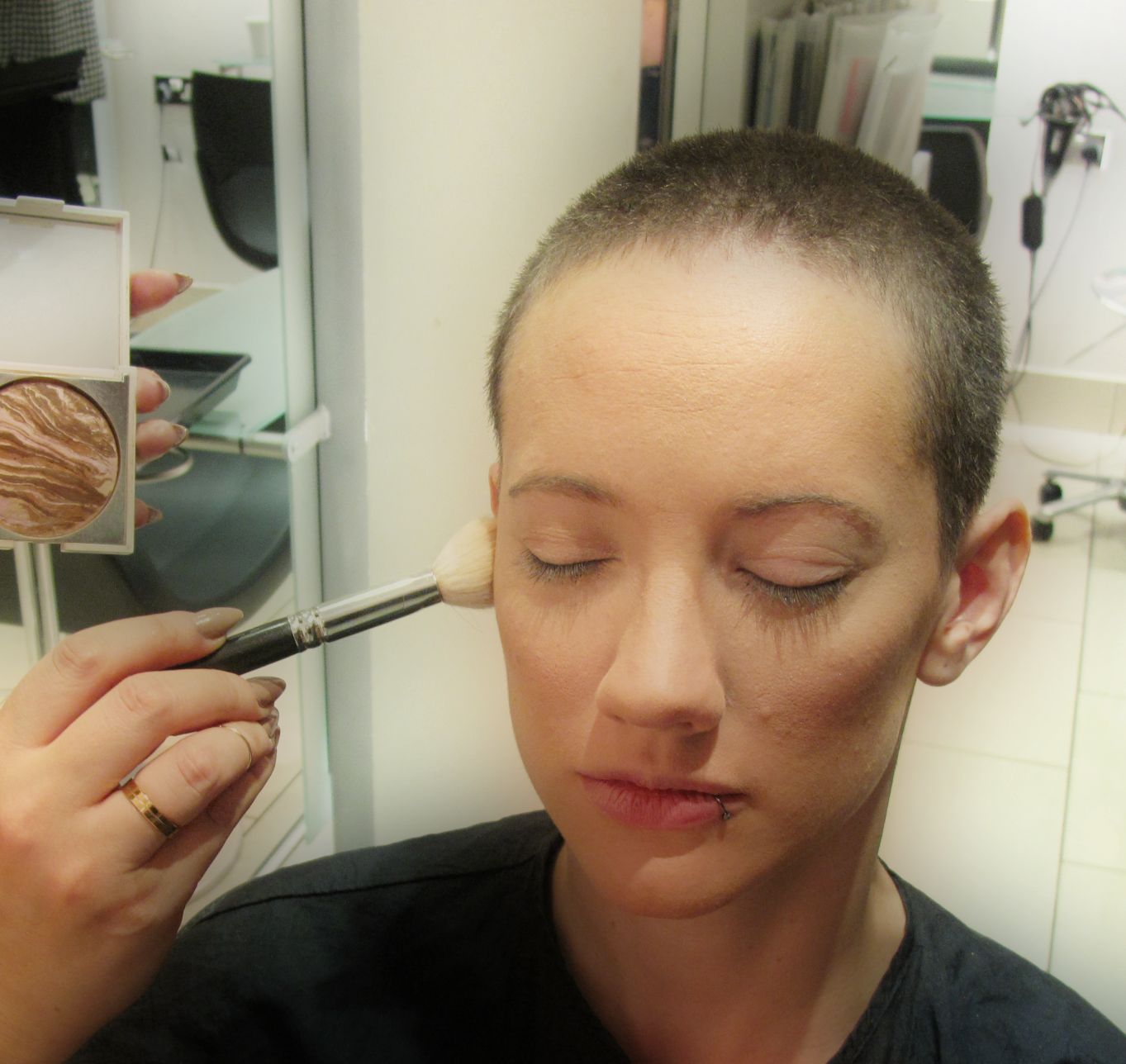 Blusher is really important to give a bit of a flush and keep looking healthy, they advised I add this gently to the apples of my cheek only. Coral Crush £24.50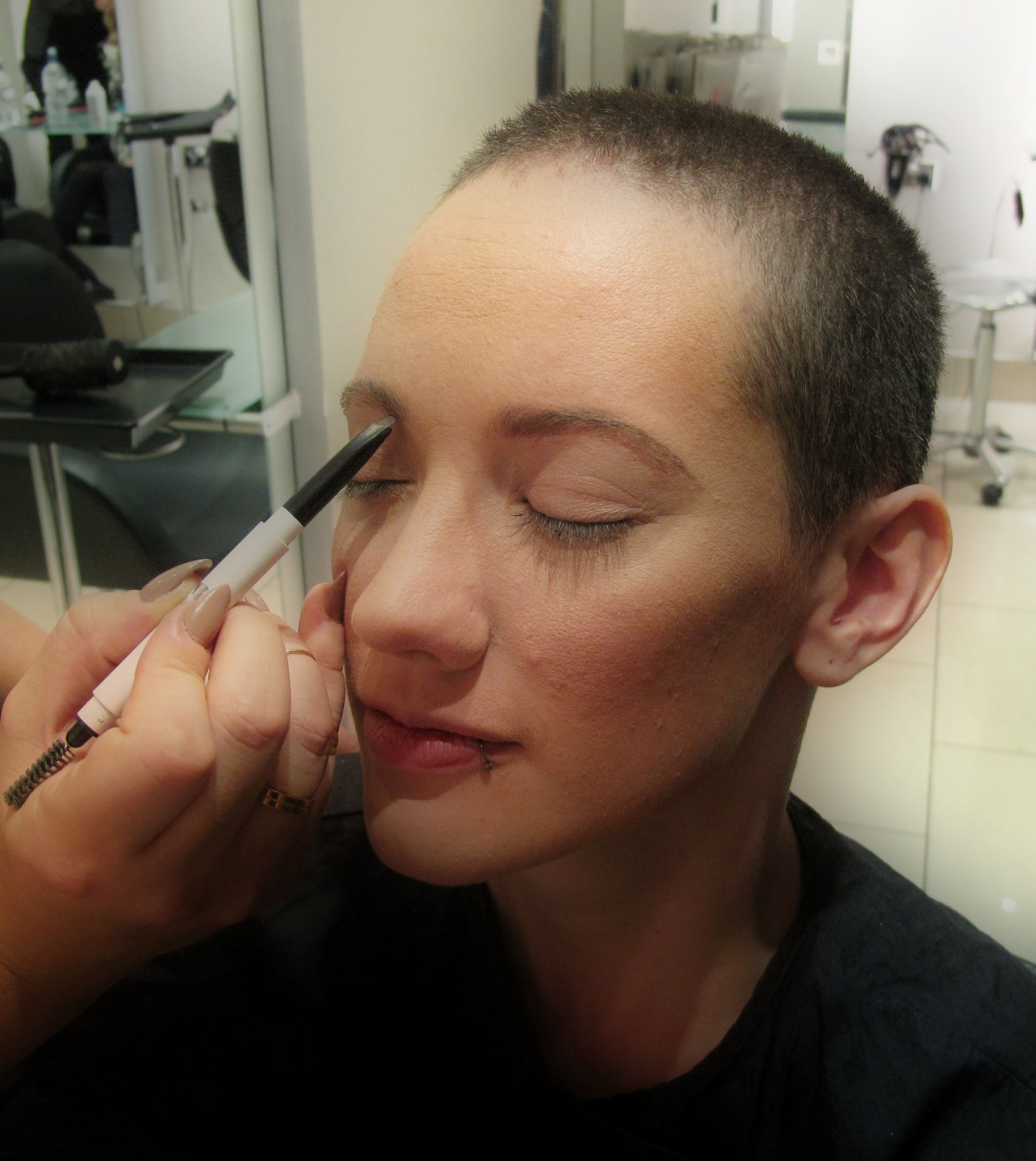 Bronzing is important to add definition, especially now without hair, to help contour the face.  Always use a matt colour as it will help create the shadow effect and still look natural. Apply on the forehead (near the hairline) bridge of  the nose, hollow of the cheek, jaw bone and chin.  Basically all the place shadows would form. I-Bronze £23.50 Remember to add a little highlight to the top of cheek bones. Sirocco £24.50
Defining eyebrows is really important as helps draw attention to the eye (which is really important in my job) and lifts the eye area looks more youthful.  Use a pencil with feather like strokes for a more natural finish I-Groom £17.00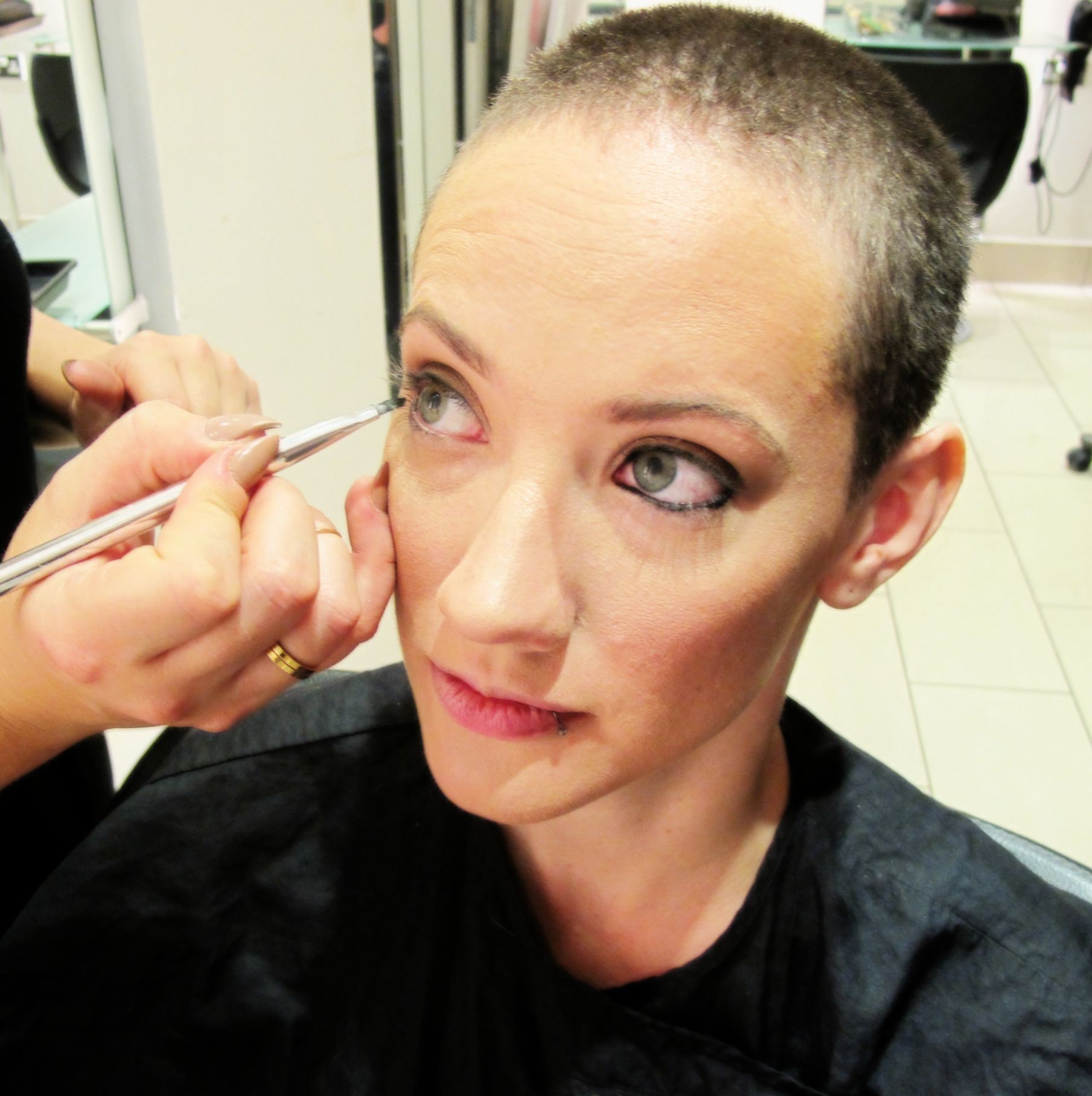 As I said it's all about the eyes for me especially now I have very little hair; so we started with a little shadow over the eye followed by a flick of eyeliner.   Top tip: when using a gel liner go to the root of the lash and tap along the roots to aid the natural shape of your eye.
For a typical smokey eye we also added colour to the waterline – if you are going to do this always smudge a little under the root as well otherwise it closes your eye too much. I-Gel £22.00
Add a little mascara to the eye, zig-zagging the wand along the eyelash to coat fully.  Once you have done one coat leave for 2 mins to dry, this is so your eyelashes don't clump together (think spider eye) I-Flutter £18.50
We added a waterproof lip liner all over the lips to keep colour and then a slick of lip gloss to keep my lips looking full but not overpowering the eyes I-Gloss £17.00 – available in all Headmasters salons!!
Last but by no means least add another coat of mascara to aid volume and length.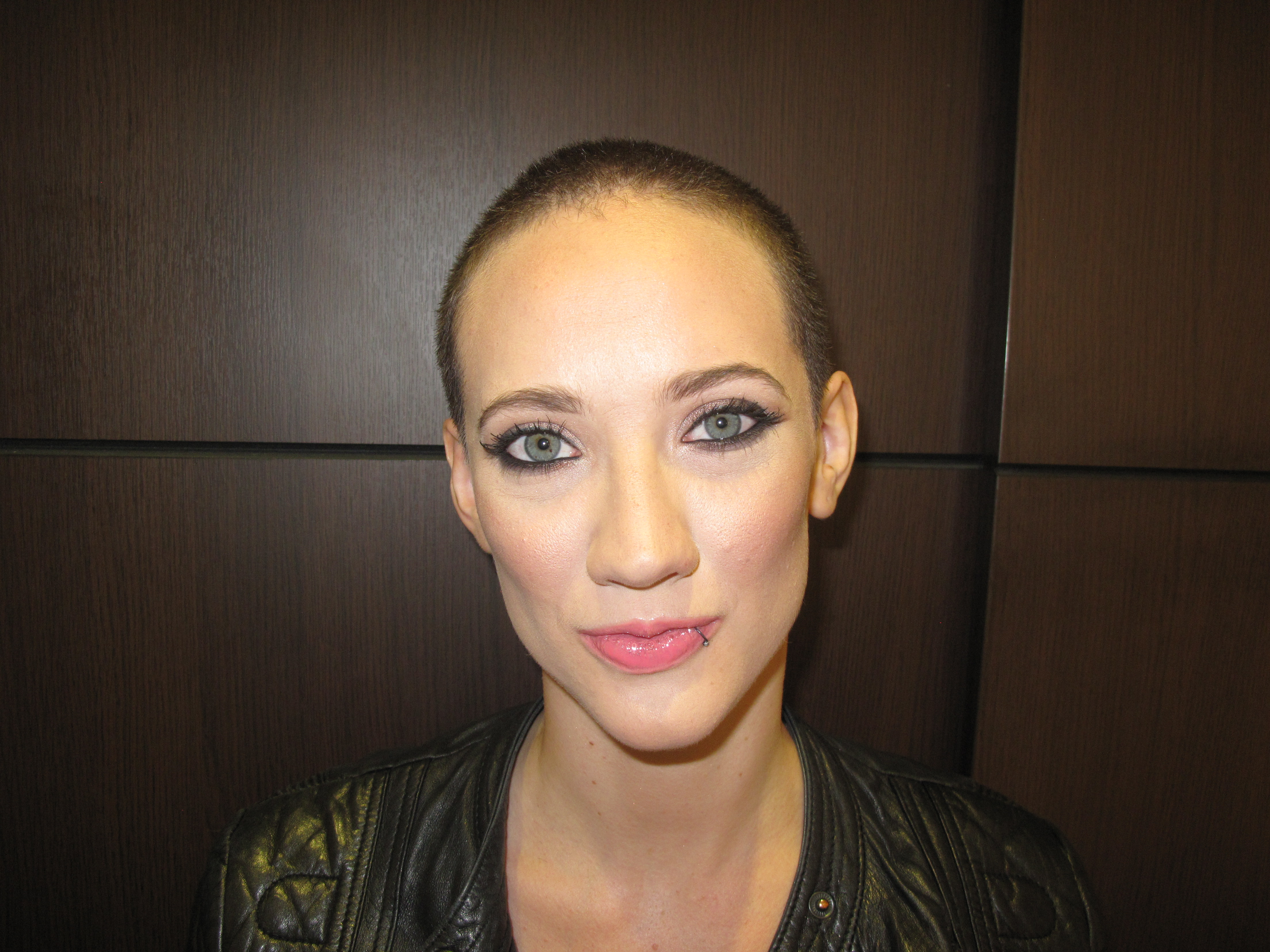 I was amazed at the difference and love the New CID range.   Rachel had managed to make my eyes really stand out and the way she had layered up my foundation, blusher and bronzer gave me enough coverage and colour under the lights of the salon without looking like I'd applied it with a trowel!  I've realised just how much of an important part make-up plays in boosting confidence, especially when trying out a new style and being unsure how everyone will react to it. The New CID make-up really helped me embrace my new style and made me want to go out and make a night of it…. So I did!!!