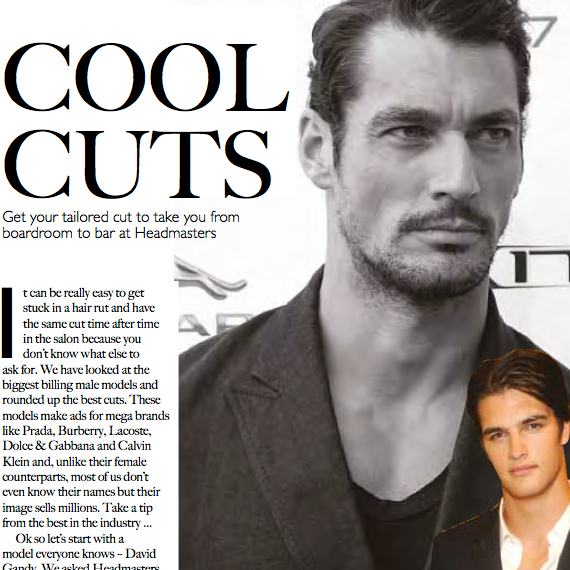 16 Apr

COOL CUTS

Get your tailored cut to take you from boardroom to bar at Headmasters…



It can be really easy to get stuck in a hair rut and have the same cut time after time in the salon because you don't know what else to ask for. We have looked at the biggest billing male models and rounded up the best cuts. These models make ads for mega brands like Prada, Burberry, Lacoste, Dolce & Gabbana and Calvin Klein and, unlike their female counterparts, most of us don't even know their names but their image sells millions. Take a tip from the best in the industry …
Ok so let's start with a model everyone knows – David Gandy. We asked Headmasters Art Director & resident male grooming expert Oliver Blackaby to tell us exactly what to ask your stylist for to get this look.
EXPERT ADVICE
"Request a longer length through the front and sides. This is a relaxed but groomed look. It's important to get your stylist to show you how to style it from wet to dry."
OLIVER'S ESSENTIAL MEN'S PRODUCTS:
1. TIGI HARD TO GET
so versatile, it gives the hold of a Matt Waxx with Shine.
2. REDKEN WOOLSHAKE
fantastic to blow dry into wet hair, as it swells the cuticle and give that lived in finish. A light spritz on dry hair gives hold and definition, especially to curly or wavy hair.
3. NIOXIN SHAMPOO CONDITIONER AND SCALP TREATMENT
for thinning hair is a miracle in a bottle, great for fine hair, and also kick starts those weak hair follicles back into action!