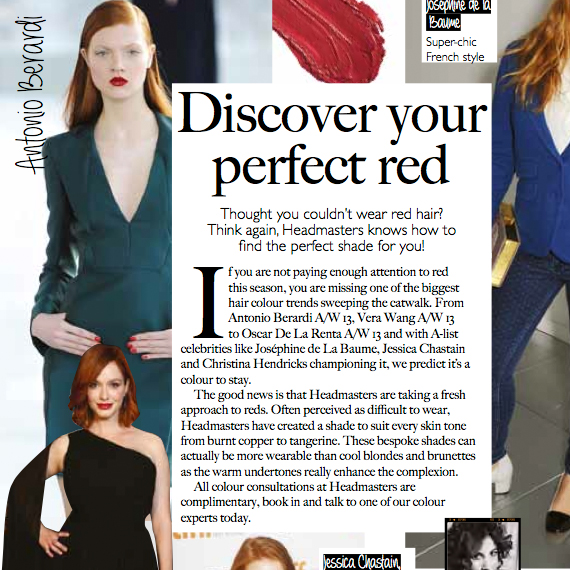 16 Apr

DISCOVER YOUR PERFECT RED

Thinking of opting for a colour change or looking to enhance your already gorgeous auburn locks? Well look no further! Siobhan Jones, Headmasters Colour Ambassador has then best top tips for picking your perfect red and the best ways to maintain your colour.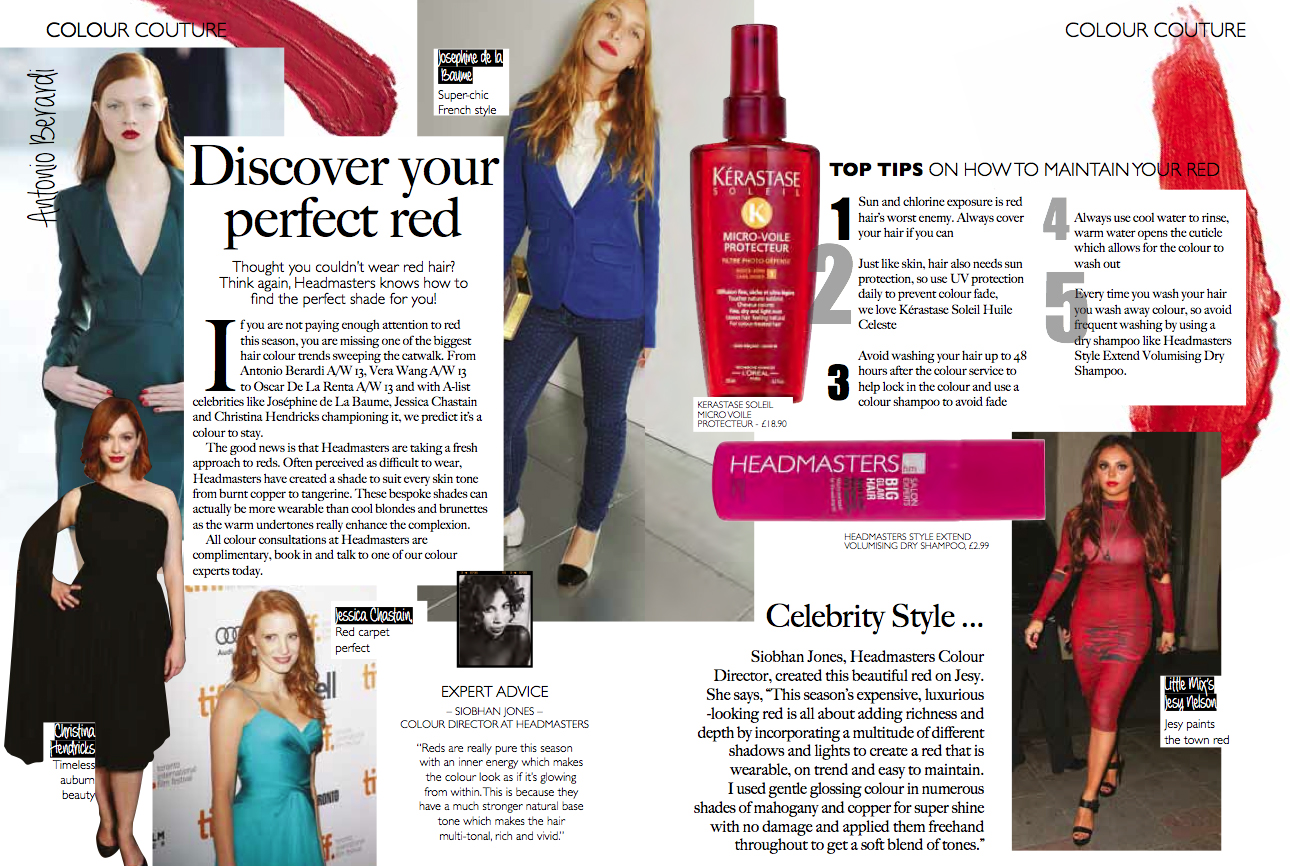 If you are not paying enough attention to red this season, you are missing one of the biggest hair colour trends sweeping the catwalk. From Antonio Berardi, Vera Wang to Oscar De La Renta and with A-list celebrities like Joséphine de La Baume, Jessica Chastain and Christina Hendricks championing it, we predict it's a colour to stay.
The good news is that Headmasters are taking a fresh approach to reds. Often perceived as difficult to wear, Headmasters have created a shade to suit every skin tone from burnt copper to tangerine. These bespoke shades can actually be more wearable than cool blondes and brunettes as the warm undertones really enhance the complexion.
All colour consultations at Headmasters are complimentary, book in and talk to one of our colour experts today.
EXPERT ADVICE – SIOBHAN JONES
"Red are really pure this season with an inner energy which makes the colour look as if it's glowing from within. This is because they have a much stronger natural base tone which makes the hair multi-tonal, rich and vivid."
TOP TIPS ON HOW TO MAINTAIN YOUR RED
1. Sun and chlorine exposure is red hair's worst enemy. Always cover your hair if you can.
2. Just like skin, hair also needs sun protection, so use UV protection daily to prevent colour fade, we love Kerastase Soleil Huile Celeste.
3. Avoid washing your hair up to 48 hours after the colour service to help lock in the colour and use a colour shampoo to avoid the fade.
4. Always use cool water to rinse, warm water opens the cuticle which allows for the colour to wash out.
5. Everytime you wash your hair you wash away colour, so avoid frequent washing by using a dry shampoo.
CELEBRITY STYLE
Siobhan Jones, Headmasters Colour Director, created this beautiful red on Jesy. She says, "This season's expensive, luxurious looking red is all about adding richness and depth by incorporating a multitude of different shadows and lights to create a red that is wearable, on trend and easy to maintain. I used gentle glossing colour in numerous shades of mahogany and copper for super shine with no damage and applied them freehand throughout to get a soft blend of tones."