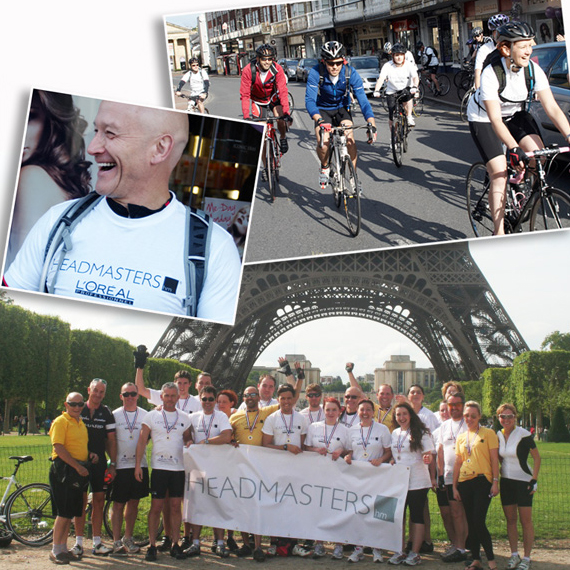 28 Jun

Headmasters Cycle Challenge for HAIRraising

Headmasters went the extra mile this June, cycling from Tunbridge Wells to Paris, in aid of the Great Ormond Street Hair Raising Appeal (Headmasters chosen charity). In conjunction with Cycle Wild, the team of 20 Headmasters staff battled the roads, rain, hills and even a trapped nerve to raise an astounding £17,000.

The team met early Sunday 19th June at Headmasters Tunbridge Wells salon where franchise owner Kerry Ward organized a hearty breakfast to help the team on there way.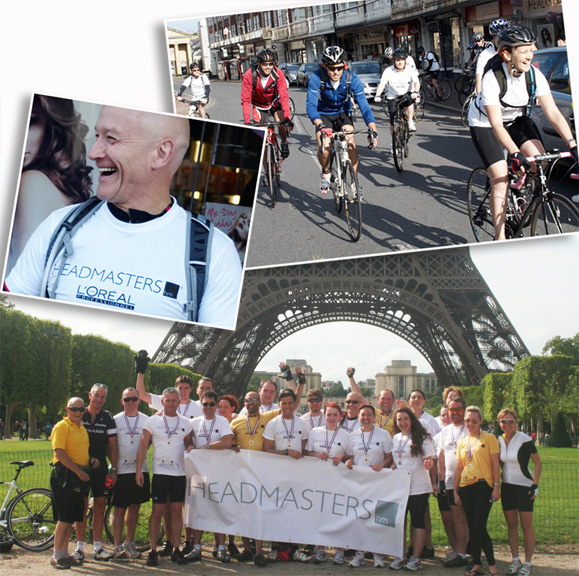 Over the next three days Team Headmasters cycled from Tunbridge Wells to Dover (a route riddled with steep hills) before taking the ferry to the busy port of Dieppe in Normandy. Headmasters Managing Director, John Sanders explained "We can't wait for this challenge and while tough, I am so inspired by the teams energy and desire to raise money for this amazing charity."
Waking early on 20th June, they braved an 80 mile ride, with four hours of consistent rain before arriving in the picturesque village of Giverny (famous for inspiring Claude Monet's Water Lilly paintings). Mark Foster, Headmasters Partner said "It's amazing the team spirit is so strong, we are soggy but not broken."
From there the team dug in for they're last 25 miles with a sprint finish to the Eiffle Tower, Paris. After a well earned rest the team took in the sights of Paris while looking back on all they had achieved.
Team Headmasters:
John Sanders, Headmasters Managing Director
Mark Foster, Headmasters Partner
Tim Binnington, Headmasters Commercial Director
Robert Soutar, National Accounts Controller for L'Oréal Professionnel
Conal McCole, Commercial Manager for Redken
Alex Batty, Guildford and Reading Franchise Owner
Lauren Benjamin, Academy Education Director
Sarah Benjamin, Academy Administration Manager
Francesca Davies, Headmasters Education Director
James Busby, Assistant Manager at Headmasters Weybridge
Dev Babooa, Senior Stylist at Headmasters Putney
Matt Taylor, at Headmasters Wimbledon Village
Bret Sanders, Reception Manager at Headmasters Mayfair
Rebecca Thompson, Stylist at Tunbridge Wells
Lauren such, Stylist at Tunbridge Wells
Emma Foster, General Manager for non appointment salons for the Regis Group.
Lee Booth, IMT