19 Jan

The Grey Hair Craze

Creating the perfect grey/silver is a bespoke and personal service. There are a number of colour undertones which are suited to different people's features, and finding the ideal grey tone is necessary to achieve the perfect end result for your hair. Headmasters Artistic Team Member, Siobhan Jones, completed a grey transformation on Little Mix's Jade Thirwall to achieve a lilac grey. Here are some tops tips from our Senior Artistic Art Team for maintaining your grey and what shade to opt for!

For brunettes, keeping a darker root can make it more flattering for their skin therefore using steel greys and deeper blue greys work well. For Blondes, creating a grey hair colour is much easier, Ivy whites to pearly greys suit blonde hair colours best.

Here is a fantastic lilac grey look created by Artistic Team Member Siobhan Jones! If you are similar to Jade from Little Mix and you have darker eyes work with a more natural root and place lighter silver tones on the ends.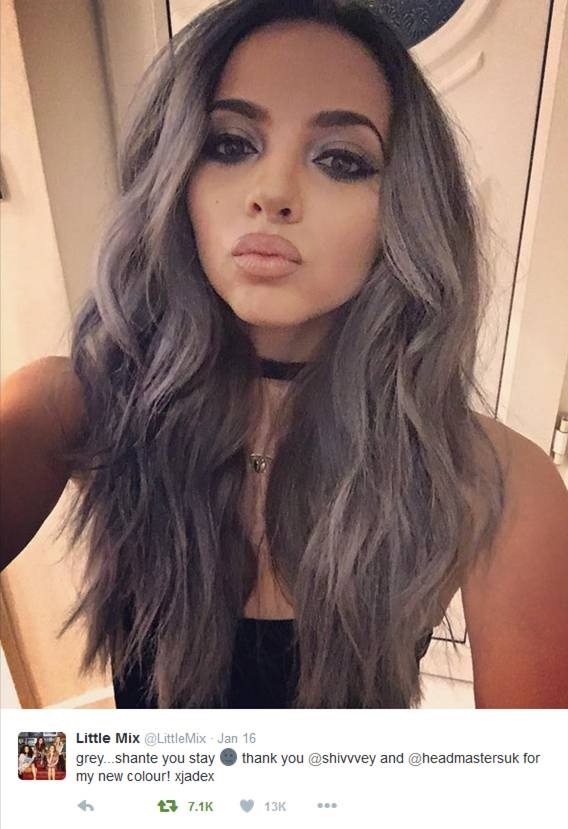 Jade Thirlwall Instagram
If you don't want to embrace the 'all over grey' look, there are other options! Grey hair looks very cool and on trend with a dragged out root or why not try a grey ombres! Here is a link to our 'Pretty Pastels' Pinterest site where you can find a selection of grey hair looks.

Going grey can weaken hair due to pre lightening, therefore using protein rich shampoos and conditioners like Bain de Force by Kerastase will build the strength of the hair back up. Always do a test strand before going straight into colouring the full head. (Always book in for a full colour consultation and strand test to see if your hair will take to the colour)