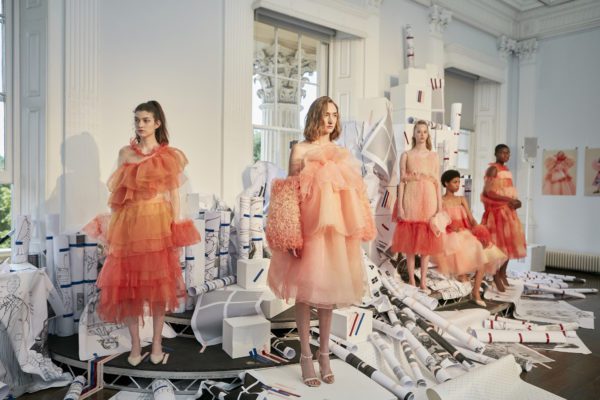 Holly Fulton, the Head of Fashion at Cambridge School of Visual & Performing Arts (CSVPA) presents the BA (Hons) Fashion course Graduate Show on May 29th 2019 with hair by Headmasters Creative Ambassadors Jonathan Soons and the Headmasters Pro Artistic Team for L'Oreal Professionnel.
COLLECTION
Through a fusion of diverse cultures the CSVPA students work in a creative environment that creates unique insights into contemporary fashion which culminated in a final showcase at ICA Carlton House Terrace on 29th May. Innovation, creativity and evolution of a personal design aesthetic form the basis of the fashion design course which led to the eye catching collections at this latest presentation.
Hair Brief:
With a broad spectrum of models there was a mix of long and short hairstyles.
Holly Fulton wanted the models to have an adolescent 90's vibe as if they had done their hair themselves and been caught in the rain.
Models with long hair all had high sports luxe ponytails that Jonathan and the Headmasters team 'dirtied' up around the hairline with a wet look wax to keep it really dewy. Jonathan explained "we wanted the hair-line to go fluffy as if the models had been caught in the rain, so we're concentrated on adding lots of texture and product."
For the models with mid length hair Jonathan explained "we kept it down with a soft fluffy kink and added dewy fringes that looked like the hair was stuck to their skin."
"For the male models we worked with their natural hair texture enhancing curls on one of them and doing a sleek wet look on the other."