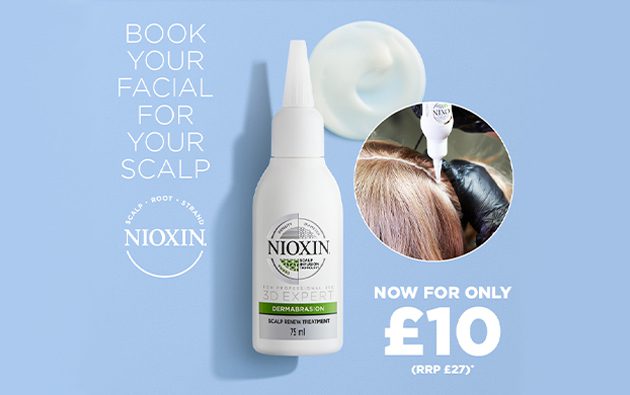 TREAT YOUR SCALP
Skin care gurus recommend we exfoliate our faces regularly, so why wouldn't we exfoliate our scalp?
The Nioxin Dermabrasion Treatment is an anti-aging scalp dermabrasion treatment to help regenerate and revitalize scalp skin through exfoliation. Acting like a scalp facial, this Nioxin Dermabrasion Treatment is an in-salon treatment which will leave your scalp feeling squeeky clean, remove all dandruff and flakes and leave hair looking fuller and thicker.
The facial for your scalp will take approximately 30 mins and includes a luxury head massage to ensure you leave the salon feeling pampered and relaxed!
Now available for only £10 (RRP £27)
Terms and conditions: Valid until 30th September 2021 with a cut & blow dry or blow-dry. One Nioxin Dermabrasion treatment per client. Subject to consultation and availability. While stock lasts.