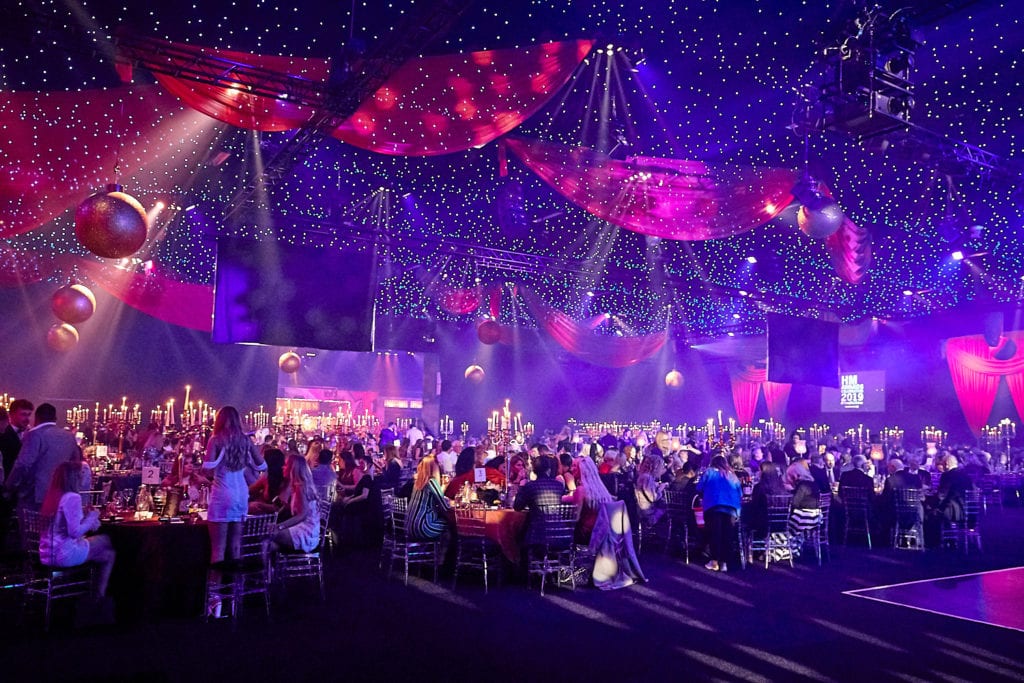 Hairdressings biggest party was back with Headmasters revealing its stars of 2019 at a New York City themed ceremony hosted by Capital Radio presenter ROMAN KEMP.
Attended by over 1000 of the Headmasters team, the Grand Finals took place at Battersea Evolution, which was transformed into the city that never sleeps, to recognise the achievements and creativity of the Headmasters team across 2019.
The Headmasters Awards comprised of seven awards for Business, judged on in-salon performance. Plus, five hotly contested Creative Photographic entries. One lucky colourist drove away in a Mini Cooper following the yearly prize draw. One lucky salon also left with £5,000 to treat their salon teams' courtesy of the Headmasters and HSBC sponsored award for The Big 5.
Creative Director Andrew Barton directed an eclectic celebration of NYC Street Style with hair executed by the Creative Ambassadors, which ignited the audience for the proceedings to follow, then guests enjoyed a three-course meal before the awards began.
Celebrating an outstanding year, Headmasters announced its brand new, exclusive partnership with easyJet Holidays where twelve lucky Headmasters Stylists will win the chance to become a Social Media Ambassador for easyJet Holidays and experience a once in a lifetime trip from the easyJet portfolio. Raju Raymond CEO of Headmasters enthused that Headmasters have had an extremely successful year and revealed that Headmasters has raised over £106,000 for the Teenage Cancer Trust, in a large part due to the very competitive Most Charitable Salon Award.
Once all award winners had been congratulated the party really got started as staff danced the night away sipping wine and cocktails while the DJ pumped out high octane floor-fillers into the small hours.
Headmasters CEO Raju Raymond explained "With so many talented hairdressers we wanted to continue to support and recognise their incredible work and to celebrate their successes together as a team. I am incredibly proud and humbled to work with such a dedicated team."
HEADMASTERS AWARD WINNERS AND RUNNERS UP:
ULTIMATE IMAGE RUNNER UP – CHRIS DEL ANNO from GREAT PORTLAND STREET
ULTIMATE IMAGE WINNERS – HOLLY ANNE FACER & KIM SHIEL from READING
AVANT GARDE RUNNER UP – PERVIN CIRAKOGLU from MAYFAIR
AVANT GARDE WINNER – ROCHELLE WINKWORTH from MAYFAIR
MENS IMAGE RUNNER UP – GEORGE MAPSTON from WIMBLEDON BROADWAY
MENS IMAGE WINNER – CHRISTIAN RAZMERITA & INES TURZO from BRIGHTON
COLOUR INNOVATION RUNNER UP – BART CACCIAPAGLIA & LUKE TYRELL from MAYFAIR
COLOUR INNOVATION WINNER – NATALIA VERA LOPEZ from GREAT PORTLAND STREET
CHRISTINE SANDERS FUTURE STARS RUNNER UP – ALEX JEWISS from COBHAM
CHRISTINE SANDERS FUTURE STARS WINNER – BOBBIE MASON from TEDDINGTON
BIG 5 AWARD IN CONJUCTION WITH HSBC – BALHAM
RETAILER OF THE YEAR – DAVID SIMMACO from PADDINGTON
BUSIEST STYLIST – FLAVIO LACURTI from GUILDFORD
BUSIEST COLOURIST – KAMIL CZYWIL from SHEPHERDS BUSH                    
MOST CHARITABLE SALON – SURBITON
SALON OF THE YEAR – PADDINGTON  
BRING ON THE COLOUR COMPETITION – EMILY MCDONALD from EPSOM