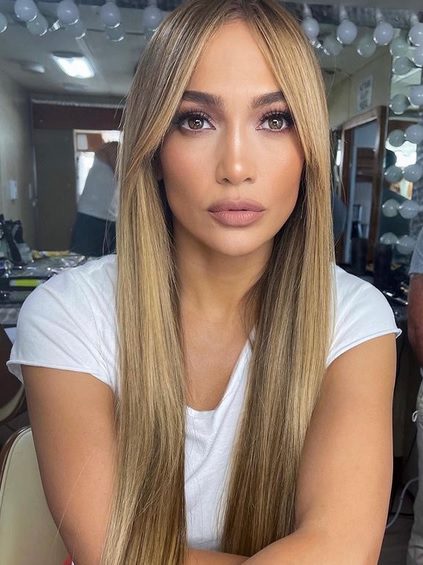 Bangs? The question on everyone's lips post lockdown…
Until now. Enter, curtain bangs! Perhaps our favourite new trend of the season: a low maintenance, high reward look brought straight to us from the likes of 60s and 70s icons Brigitte Bardot and Jane Birkin and reinvented by some of our favourite A-Listers including J-Lo and Gigi Hadid. By definition, Curtain bangs are where the fringe is parted down the center and swept to each side, to perfectly frame your features and give you an effortlessly styled look.
Keen to know more, we asked Headmasters Creative Director Andrew Barton where he stands when it comes down to making the chop.
"Curtain bangs have made various hair trend variations through the decades often influenced by pop stars and music A listers. This time around it's all about the grown out fringe. During lockdown, clients have told us they are liking their newly cheek bone skimming grown out fringe lengths or curtain bangs.
Either worn from a side or centre parting the hair sweeps longer than the usual fringe length and blends into layered areas of longer cuts and are great for bespoke colour techniques like contouring or baby lights to add texture and brightness around the face.
The trick is in the home styling to avoid flat hair so blast the hair when damp at the roots with the heat from the nozzle of the hairdryer encouraging some root lift. Then using a round roller brush dry the hair to give the hair a rounded smooth effect. Use a fixing spray or texture spray to hold the hair in place both these products give soft flexible hold.
If your thinking about chopping your hair into a curtain bang ask your stylist which length would suit your face shape. Smaller face shapes suit shorter curtain bangs by framing the face."