HM Creative Ambassador, Nicole Iroh shares her experience as a textured hair specialist at Fashion Week and the importance of embracing natural texture.
"Over the years working backstage a Fashion Week I have definitely seen changes. Most teams now have at least one textured hair specialist, as well as other team members that can do the basics. Part of that change is that brands are casting more of a diverse range of models from all over the world and all ethnicities. Braiding in particular is key and definitely a sought-after skill when working backstage.
Being prepared is key, so additional to my show kit I always have a texture sponge, Afro pick, barber brush and an edge brush, as well as a variety of products. These include an edge tamer, moisturiser, leave in conditioner and detangler, scalp moisturiser, essential oils and a heat protector. I also bring extra heat styling tools like a pressing comb, edge comb and a mini straightening iron. I also think it is very important to reassure the model and explain what you are doing and why. We have to understand that they may have had bad experiences in the past with stylists not knowing how to do their hair, or even damaging it. Always put them at ease, as you would a client in the salon in order to gain their trust.
I believe it is absolutely essential to have textured hair specialists backstage at Fashion Week, as well as every session stylist knowing basics when it comes to styling textured hair types. The models that walk the shows are from all over the world – all ethnicities with a variety of hair textures, and we need to ensure the standard and quality is the same for all. I really enjoyed New York Fashion Week, as I worked with Tina Outen who has a really strong core team of texture experts that also travel with her. I find Paris very exciting for textured hair, as there are a lot of models with a variety of different hair textures. In Paris it tends to be more about embracing the natural texture and silhouette as well as braiding, where as I've found London is usually more open to experimenting and also having models with Locs.
One of the biggest misconceptions at Fashion Week is just because the hair is short and the brief is to leave it natural, that means we do nothing to the hair. It still needs to be shaped, styled and moisturised to look good. Also, that you can only know how to treat textured hair if you have texture in your hair. While that is definitely an advantage because you understand how the hair moves and reacts, it doesn't mean that you can't learn it.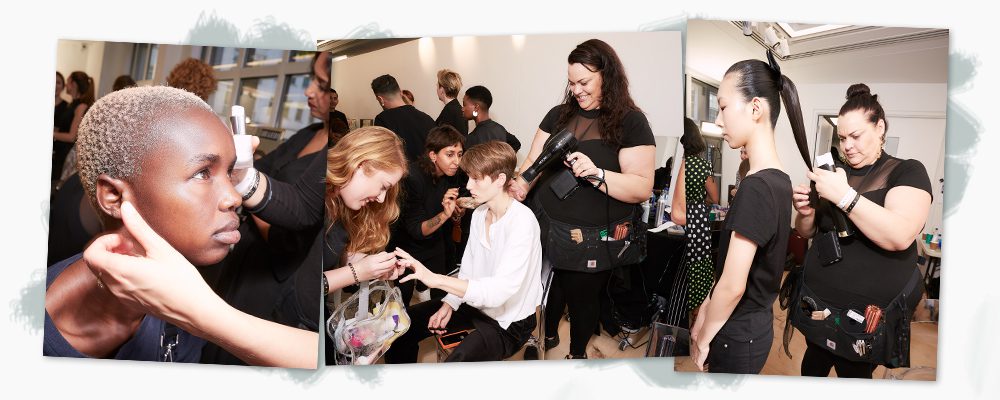 There are so many different types of curl textures and each has their own individual needs and characteristics. I trained in Germany and during my initial training textured hair wasn't covered, but I wanted to learn it. So, I did! I've been a hairdresser for 26 years, and didn't have anywhere near as many options of learning as we do now. You can research and follow hair artists on social media, do online classes or even watch YouTube videos to educate yourself and grow!
I find assisting a specialist is key to really understanding textured hair. I worked in an American salon that catered to all hair types and really learnt by assisting the team in order to understand how the stylists approached different hair types. I asked lots of questions which I then put into practise with clients every day, which gave me the foundation I needed to then build on. I use so many of the techniques I learnt in Afro hairdressing for my avant-garde work.
In my own experience, so many opportunities came from being able to work on all hair types. I've toured in Australia, New Zealand and South Africa. I've worked on editorial shoots, campaigns, at red carpet event, film festivals, on music videos and with Celebrities – I styled Jaden Smith for his promo of the Get Down. I was also able to work on films like Wonder Woman and Aladdin.
Do your research – look at runway shows and the type of aesthetics created on textured hair as they differ to your everyday salon work. Backstage is a team effort with everyone coming together to achieve the designer's vision, so be honest about your level and ability; teams will expect you to be able to do the techniques you have confirmed so make sure you are confident. Always ask for advice; your team will help you and advise you how to approach the desired look.
If you are already an experienced textured hair stylist, contact agencies and let them know that you are interested and available to work on shows. Have a portfolio that shows your abilities as this is key when teams are choosing stylists to work with. It doesn't always have to be a professional photoshoot, even images of your clients on your Instagram give a good idea of your abilities."
Our Headmasters salons offer a range of texture services.